Bello Machre's Every Step Counts Half-Back Program
Raise money to support Bello Machre AND your loved ones!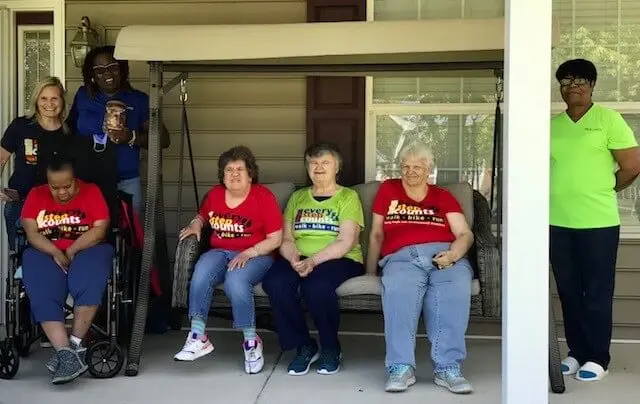 Every year, Bello Machre hosts a walk/bike/5k event called Every Step Counts (ESC) to support people with developmental disabilities, and to celebrate our Bello Machre family. One of the things that makes ESC so special is the half-back fundraiser. The half-back program runs now through the end of June, giving participants a chance to raise money towards Bello Machre as well as towards the support of their own loved one. Any ESC pledges or donations made in honor of someone we support in any of our programs (Residential, Community Services, or Ray of Hope) will be counted as half-back. Through the half-back program, 50% of the donations you raise will go to your loved one and the other 50% will go to general programs and services.
All the members of the Bello Machre family are excited to participate in the half-back program each year. Within support services, individuals can raise money for medical supplies and bills, tickets to theme parks, vacations, and more. Members of the Meaningful Day program have used the half-back program to fund activity fees, and even business expenses for their own businesses, such as their art stores, bath bomb shops, and printing stores. There are extensive options for how the people we support use the half-back funds! Bello Machre's Half-Back Program ensures the people we support have the opportunity to raise money so they can achieve a goal or dream of their own.
Our community homes also participate in the half-back program and have had a lot of fun dreaming up ways to use their ESC funds. Devona Robinson is a Family Living Director at one of Bello Machre's community homes and has worked with Bello Machre for 15 years. Devona and the people she supports in the home have used the half-back program in past years to fund additions to their home they can all enjoy together.
Devona and the four people who live with her collect money in donation jars. She places jars in her community, like at her hairdresser's shop, and she keeps a jar in the house for everyone in the home to participate by adding spare change. She said that it's fun to watch the jars fill up little by little until they're full. Devona also reaches out to her loved ones and the loved ones of the people she supports to ask for donations.
Every year, the ladies in the home set a fundraising goal, and decides what they'll spend their money on. A few years ago, they were able to raise enough money to buy a grill, and another year, they bought a backyard swing! Devona says, "Now, we can all sit outside together or sit in the swing set and watch the cars go by." This year, Devona and the individuals she supports are thinking of raising money for a weekend trip to Ocean City. While togetherness may have looked different this past year due to the pandemic, Devona and her Bello Machre family still plan to celebrate it by taking a small vacation together.
The half-back program creates a special opportunity for you to give and know exactly who will benefit. Anyone who is interested in participating can make a donation or become part of a fundraising team to raise money for the people we support. The ESC fundraiser website allows you to create or join a team fundraising page for a loved one or their home. This page can be shared with friends and daily to encourage them to donate. You can make a direct impact in the lives of individuals with developmental disabilities by joining the team for the Allan Drive house, or donating in honor of your own loved one under any of our programs. For more information, visit our ESC event page.