Let's Make A Difference Together
When you support Bello Machre, you empower us to say YES! to people with developmental disabilities. Your gifts help bridge the gap between government funding and the actual cost of a lifetime of loving care. Help us enhance our community and change lives.
Make An Impact With A Financial Donation
Every dollar makes a difference. Donate what you can. You can also set up recurring donations or make a gift in honor or memory of a loved one or cherished friend.
Meet your personal financial goals while supporting Bello Machre for generations to come. Learn how to make a gift that provides tax benefits and life income.
Just a few dollars per paycheck adds up to a lot of support for Bello Machre! Plus, you benefit from a charitable tax deduction at the end of the year.
In-Kind Donations ›
We welcome property, furniture and fixtures, electronics, electric wheelchairs, airline miles, and more. Email us for more information about the kinds of gifts we accept.
Make a gift in memory of a beloved family member or a cherished friend.
Make a gift on behalf of a loved one on special occasions including birthdays, anniversaries, weddings, baptisms, graduations, holidays, or other special life events.
Include Bello Machre in your will or trust or contribute with another planned gift.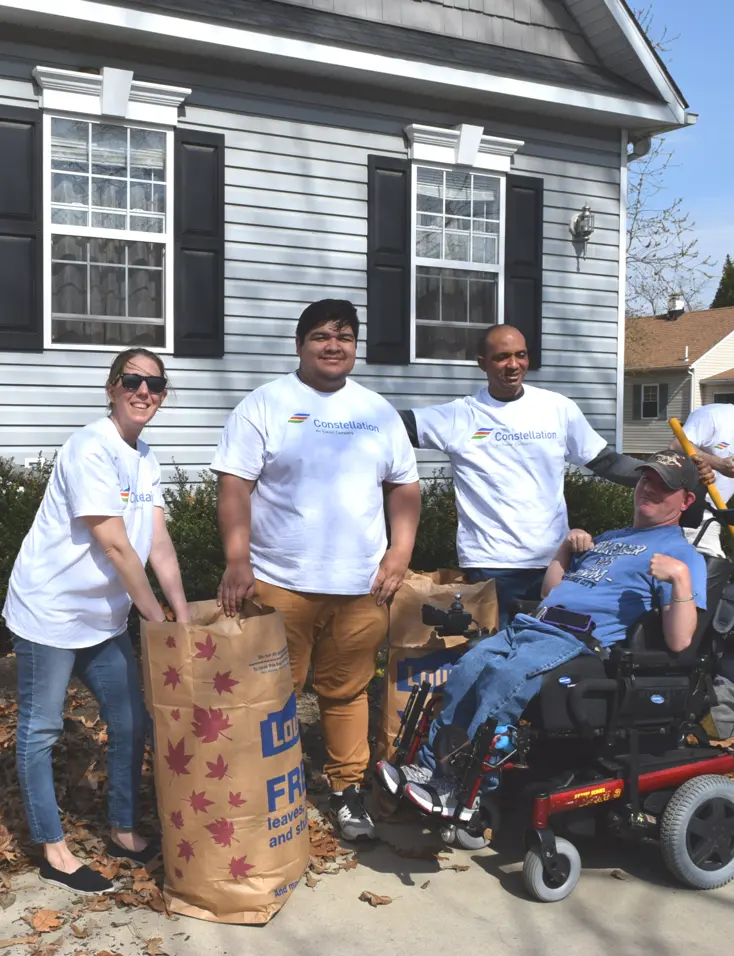 Every Gift Lifts Us
Every donation benefits residents and other loved ones at Bello Machre. You can make a difference for our community.
Erica Schleicher (far left) is a volunteer, family member, and amazing supporter of Bello Machre. In 2018, she wrote a letter to her employer, Exelon, describing the impact Bello Machre had on her life.
Her testimony led to the company's donation of $10,000 through the Exelon Energy for the Community Award. Later that Spring, Erica and many other members of Constellation Energy (a subsidiary of Exelon) volunteered to beautify one of Bello Machre's community homes. Erica's giving spirit is an inspiration!
Learn more about volunteering and workplace giving.
Donate Your Time To Bello Machre
Pitch in your time, on your own or as a group, doing something that makes lives better. Learn about our Volunteer Program.
Gain experience from a respected service organization. Learn about our Educational Outreach Program.
Donate by Mail
Your gift will make an immediate impact on the people we serve. Cash, checks, and credit cards are welcome. Please make your check payable to Bello Machre and mail it to:
Bello Machre, Inc.
Making a Difference
7765 Freetown Road
Glen Burnie, MD 21060
Support Bello Machre
Ready to make a difference for people with developmental disabilities? Contact us to learn more ways you can contribute to Bello Machre.