Cheryl's Life at Bello Machre
Can you feel the joy that Cheryl radiates? Cheryl came to Bello Machre 25 years ago. After her dad had a stroke and her mom's health began to fail, Cheryl was in desperate need of a home where she would be safe and loved. Click on the above video to hear Cheryl talk about her…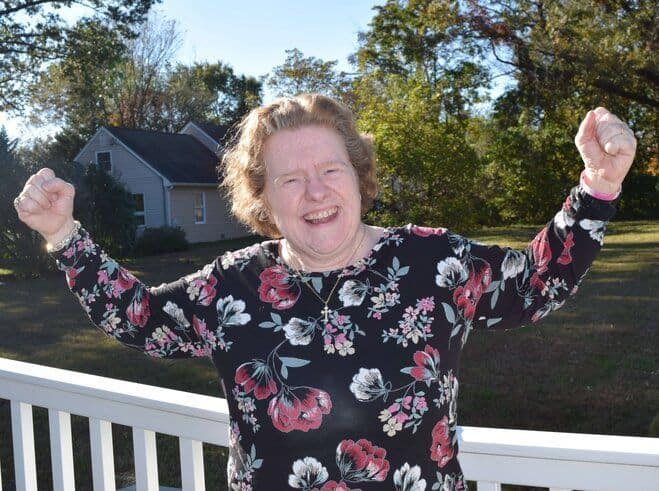 Can you feel the joy that Cheryl radiates?
Cheryl came to Bello Machre 25 years ago. After her dad had a stroke and her mom's health began to fail, Cheryl was in desperate need of a home where she would be safe and loved. Click on the above video to hear Cheryl talk about her experience coming to Bello Machre. She remembers, "I was scared, and it was not easy at first. I missed my mom a lot. It helped me to share my lifetime story and tell others about the house I grew up in. My Family Living Director liked to hear my stories."
Within the first few weeks, Cheryl was making friends and discovered that she was becoming part of a new family. Cheryl always liked to be out in the community interacting with people!
One day, something magical happened.
Check out the video below (Cheryl's Story: Chapter 2) to see how her life changed many years ago.
Bello Machre makes a promise to the people we support and their families that they will have a home for a lifetime. We believe that what makes Bello Machre home for so many people is the love and joy found within the Bello Machre family.
This holiday season, we ask you to please open your heart so that we can continue to make a promise of lifelong loving care. Please donate today! Your generosity ensures that Cheryl and hundreds of others with developmental disabilities throughout Maryland will be safe and loved… for a lifetime.
Throughout this holiday season, we will continue to share more about Cheryl's story. You help Cheryl live a joyful and enriching life, stay tuned to learn more about her life at Bello Machre and the impact YOU have on her each and every day!