Meet Rebecca
Hi, My name is Rebecca, but I like to be called Becca. I'm 48 years old and have been involved with Bello Machre since 2003.
"Hi, My name is Rebecca, but I like to be called Becca. I'm 48 years old and have been involved with Bello Machre since 2003. I lived with my mom until I was 26. I have a learning disability and have trouble with comprehension. I process information slowly and have neurological problems.
I live in Howard County so I can be close to my mom and sister.
The first time I moved out of my mom's house, I moved in with Brenda who worked for Bello Machre. Brenda got married and sold her house. It was kind of like a transition for me to live on my own. Then I moved out to find my own apartment. I was independent enough that I was able to live on my own.
I've had a lot of jobs over the years. I worked at the hospital in Glen Burnie and then Kohls and now at Wegmans for the past 3 years. I hope I don't have to leave, but I want a new position. I work in the Helping Hands department where we greet and assist customers by transporting and taking care of the carts. We are outside most of the time.  I would like to find another job that is less physically demanding. I would like to help in the floral department. I've already been doing indoor watering.
My dad came to visit me last year. He lives in Florida. He thought Wegmans was massive like a mall. I miss my dad, but I talk to him almost every week. He does not like being away from me and my sister.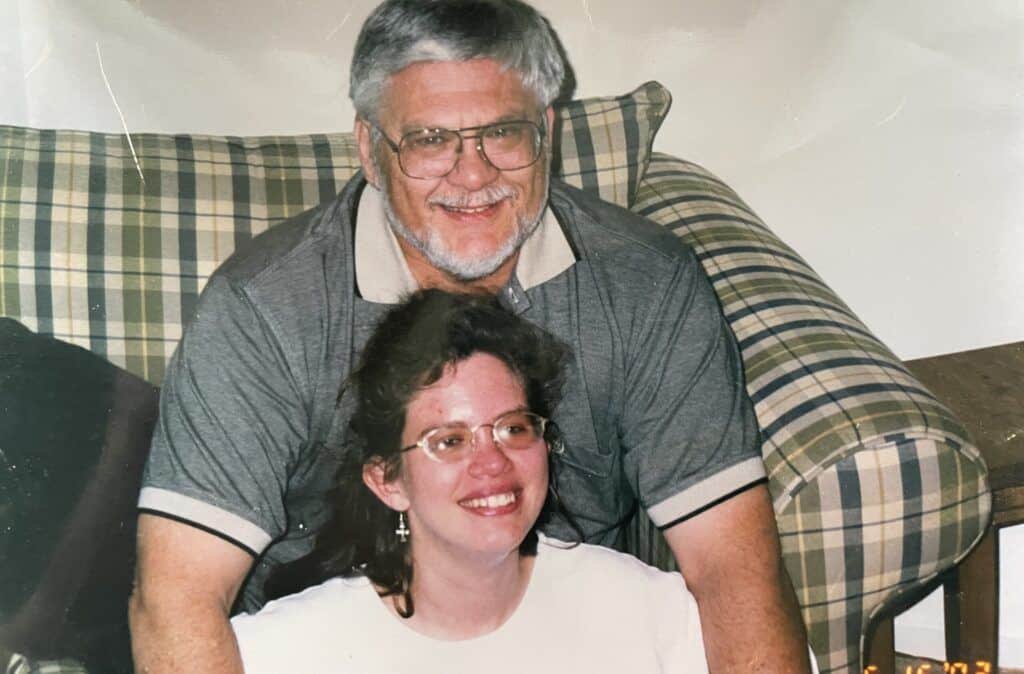 Becca and her father!
"My sister helps me a lot. She's two years older and lives about 2 miles from me. She checks in on me and sometimes I go there for dinner and spend the night. We have a great relationship. She's my best friend. I like spending time with my family," expresses Becca. "My mom is also a very important and special member of my family. She is very loving, caring, and is a great source of support."
Becca is an individual who's supported through Bello Machre's Community Services. Suzanne, a caregiver and direct support professional, helps Becca a few hours a day, two times per week. They have been together for 4 years.
Suzanne says, "I think we work together very well. We have great communication. I try to be very patient with Becca. She has anxiety and can get overwhelmed easily. Sometimes I want to do too much for Becca, and I have to stop myself and let her take the lead. I'm always learning – Becca teaches me a lot about her abilities and how I can help her. I'm very proud of her for that."
Becca chimes in, "Suzanne and I like the same kind of music, and we like shopping. Sometimes we go out to eat. I really like Panera."
Becca has faced challenges living independently. Suzanne helps her clean and pick up the apartment, takes her shopping, and plans a monthly outing to the library or store. One of Becca's goals is to be able to take public transportation. Right now, the biggest hurdle for Becca is transportation; getting to and from work using Uber and taxis is very expensive.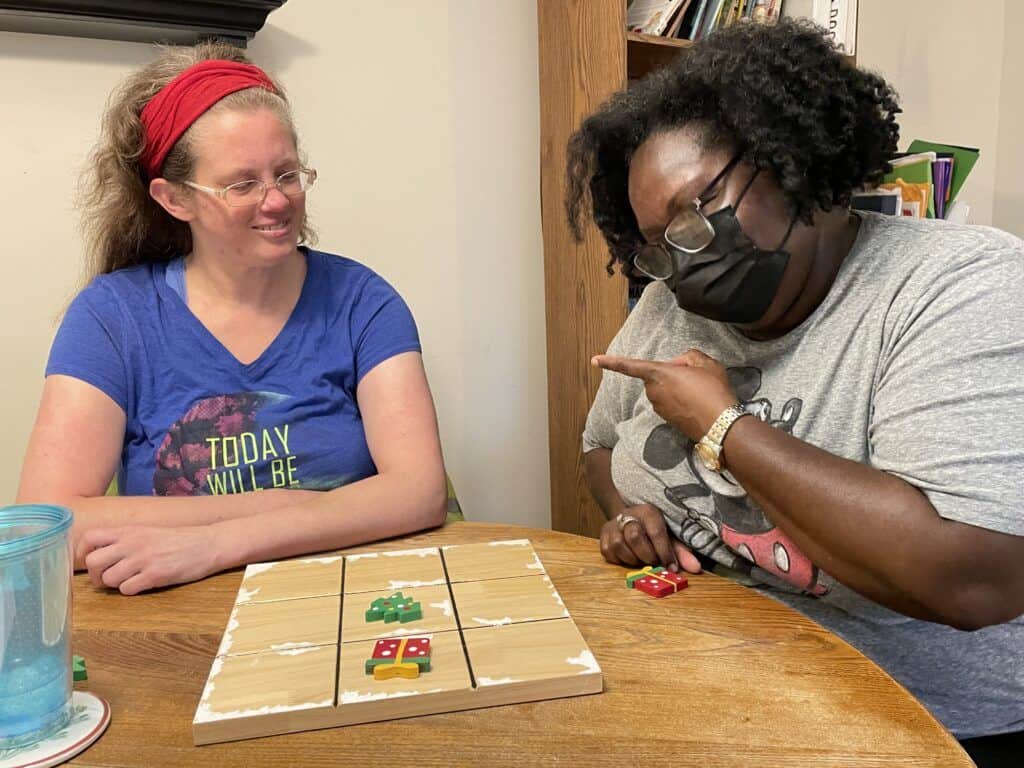 Becca and Suzanne playing a board game!
Becca says, "One of my short term goals is to take the regular bus on my own especially going to the shopping center. Sometimes I do it on my own and Suzanne drives where we go and meets me. It's one bus all the way there. I pick up the bus right in front of my apartment complex. I can ride for free with my pass. My long-term goal is to be able to find other places to go and change buses, but that's confusing to me. Suzanne helps me with cleaning the bathroom and kitchen, folding the clothes, putting things away, and organizing. She also helps me go places like the bank, pharmacy, and Walmart. Another goal is to walk to the library. They have a great garden in the middle. It's only 5 minutes walking."
"I love living on my own, but it can be challenging at times. I have a lot of friends, but sometimes I get lonely. Luckily my cat keeps me company. Cleaning and taking care of the apartment and affording groceries and clothes is really hard. Everything is expensive. I need pants for work, but I don't feel comfortable ordering something so expensive. Other stuff I need is to get my jacket fixed with a new zipper. It's my favorite SPCA coat because I used to volunteer there. I need a new dustpan, spray mop wet jet and the pads that go with it. I need detergent, cleaning supplies, everyday stuff. But, transportation is my biggest cost. I like taking a cab to work because it's less expensive than Uber. Maybe a special treat would be to get my hair cut. I don't like to ask for things that are too expensive," says Becca.
Suzanne says, "I tell her, you can't do everything – you need to pace yourself and it's ok to ask for help. We have definitely grown together, and we continue to grow. Becca is a breath of fresh air and has taught me a lot."
Becca asks, "What did I teach you?" Suzanne says, "You taught me to listen, to learn, and let you take the lead. You like to do things on your own. I had to learn that. You tell me when you needs help. It's amazing!"
Becca says, "I know it's ok to ask for help. I really appreciate all the help!"