September 2020 Advocate of the Month
Thank you to our Community Heart Heroes – Andy Cooch and Kellie Nicoleo (pictured right) of Progressive Title in Arnold for supporting the Bello Machre Advocate of the month. Birgit was chosen for September Advocate of the Month because she goes above and beyond for the individuals she supports, her team, and Bello Machre as…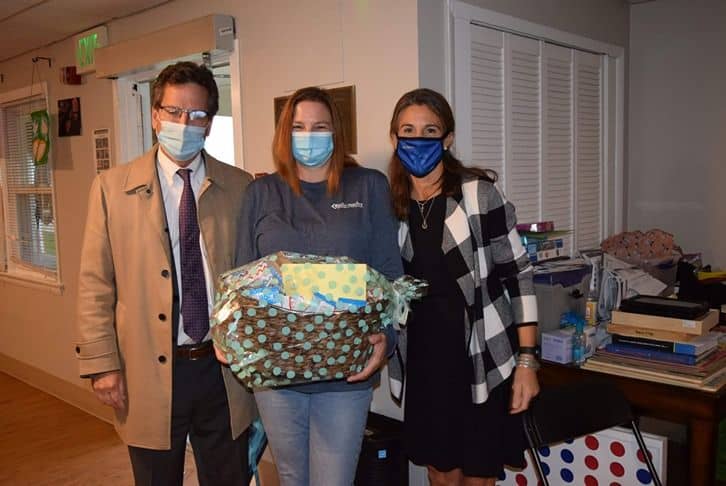 Thank you to our Community Heart Heroes – Andy Cooch and Kellie Nicoleo (pictured right) of Progressive Title in Arnold for supporting the Bello Machre Advocate of the month. Birgit was chosen for September Advocate of the Month because she goes above and beyond for the individuals she supports, her team, and Bello Machre as a whole.
Birgit's supervisor, Charlie Im, says "From the very first time I met Birgit during her interview I immediately recognized her eagerness to show compassion and love for the people we support."
Birgit understands that her role can change day-to-day based on the needs of the individuals she works with. This kind of awareness of her role makes Birgit a leader. Each day is different—she's a caregiver; she's a job coach; she's a life skills instructor; she's a mentor, she's a counselor. In the end, though, above any of those titles, many of the people she supports will say that she's their friend.
Birgit also jumped in when Covid19 temporarily shut down the meaningful day program and shifted roles for some of our employees. Birgit was moved to our Sunset Home to help. In Birgit style – she immediately connected with the people who live in the home. She strove to find new ways to support fun for these new friends.
A colleague, Latora Hawkins, who manages the campus homes said, "Birgit's specialty is arts and crafts. She helped our Sunset Home design a Mother's Day project a few months ago and then she helped facilitate it. Everyone enjoyed themselves! We're so grateful for all Birgit does for the people who live in our home and for wherever she is working in Bello Machre. Birgit's personality lightens every room she steps in."
Thank you Birgit for the energy, fun can-do anything attitude, and the loving care that you give to the people at Bello Machre. You are a true Bello Machre Heart Hero.