Bello Machre Raises Over $110,000 at Every Step Counts 2014
PRESS RELEASEDate: June 26, 2014 Contact: Tracy Lynott – Director, Development443.702.3016 email: tlynott@bellomachre.org BELLO MACHRE RAISES OVER $110,000 ATEVERY STEP COUNTS 2014 ANNE ARUNDEL COUNTY, MARYLAND: Bello Machre proudly announces it raised over $110,000 at Every Step Counts 2014. The event, held at Anne Arundel Community College in Arnold, Maryland, was attended by more than…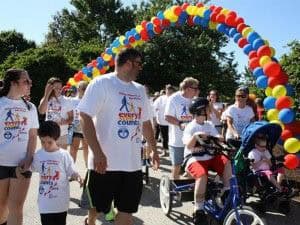 PRESS RELEASE
Date: June 26, 2014
Contact: Tracy Lynott – Director, Development
443.702.3016 email: tlynott@bellomachre.org
BELLO MACHRE RAISES OVER $110,000 AT
EVERY STEP COUNTS 2014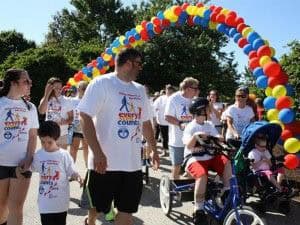 ANNE ARUNDEL COUNTY, MARYLAND: Bello Machre proudly announces it raised over $110,000 at Every Step Counts 2014. The event, held at Anne Arundel Community College in Arnold, Maryland, was attended by more than 400 people who walked and biked on a route around the college. The proceeds benefit children and adults with developmental disabilities served throughout Central Maryland by Bello Machre. Dr. Robert T. Ireland, President and Chief Executive Officer, stated, "What an amazing day for Bello Machre and the folks we serve. With the help from our friends, families, business associates, and employees – this year's Every Step Counts 2014 was the most successful ever!"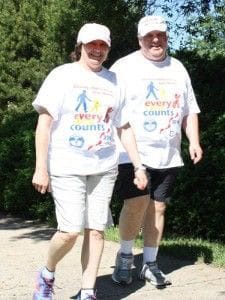 Spirits were high and the enthusiasm was contagious for the over 400 people who came out to walk and bike in Every Step Counts 2014. The event brought together friends and family, children and adults. Everyone enjoyed the walk and bike, moon bounce, Clown, live music by Medora, children's games and prizes, raffles, and great food.
The event's Presenting Sponsor was Dimensional Health Care Associates of Owings Mills, Maryland, contributing $12,000. Dimensional Health Care Associates (DHCA) provides nurse case management and delegated nursing services to individuals with developmental/intellectual disabilities. Headed by Denise and Howard Schuffman, DHCA is a nurse owned/operated company providing services in Maryland for over 21 years. DHCA offers on-going and mandatory (CMT, OSHA, CPR, etc.) training for direct care staff as well as skills necessary to care for individuals. Nutrition services provided by registered dietitians are also available.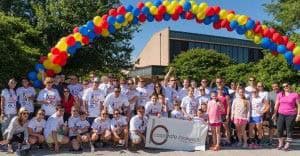 Other major sponsors include our Premier Sponsor Corporate Brokers of Annapolis, Maryland who donated $7,500 and assembled a 30-member walking team for the event. Shane Ireland, Managing Member, comments, "I am so proud to be associated with Bello Machre. This year was especially great because our staff was engaged and excited to fundraise and walk for a local family that is supported by Bello Machre. It was a terrific day for everyone."
Corporate Brokers, headquartered in Annapolis, Maryland, is focused on high-quality recruitment and retention and offers a full array of scalable, best-practice solutions for both Permanent and Contract Placement Services. With seven offices located throughout the country, Corporate Brokers is designed to meet clients varied staffing challenges, from total outsourcing of talent acquisition strategies to interim contract recruiting.
The event's other major sponsors include: Merito and Northern Pharmacy & Medical Equipment as the Benefactor Sponsors each donating $5,000 and our Patron Sponsors contributing $2,500 each, include: Americle Healthcare, Cattail Construction, Commercial Insurance Managers, Comprehensive Developmental Services, and DataLink Interactive.
Every Step Counts Sponsors also included: $1,000 T-Shirt Sponsors – Absolute Fire Protection, Affordable Heating & Cooling Co., Bank of Glen Burnie, Bugout Termite & Pest Control, Gavigan's Home Furnishings, Maryland Sewer & Plumbing, M&T Bank, Mullen, Sondberg, Wimbish & Stone, Opportunity Builders, Progressive Title Corporation, Skyline Technology Solutions, Touch of Green, and Transforming Architecture; $500 Rest Stop Sponsors – All Painting & Power Washing, Baxter Tire & Auto, Flom Corporation, G. A. Eberly Plumbing & Heating, and Tate Dodge Chrysler Jeep; and $250 Distance Marker Sponsors – Corporate Sports, Glen Burnie Mutual Savings Bank, Phelps Water Company, Post Haste Mailing, and Sunset Restaurant & Lounge.
Bello Machre, founded in 1972, means Home of My Heart in Gaelic. It is a non-profit organization in Anne Arundel Country, Maryland that provides homes and support to children, teens, adults, and seniors with developmental disabilities. Its mission is to enrich the lives of those served through loving care, guidance, and opportunity so that they can live life to its fullest. Many of the people served live in its 56 community homes located throughout Central Maryland. Bello Machre also provides help and support to hundreds of children and adults in their own homes. The Ray of Hope Program offers assistance with expenses such as specialized summer camp, physical therapy and adaptive equipment. Trained and caring staff also provides residential respite care, during family hospitalizations, emergencies, and vacations—24-hours a day – seven days a week. Bello Machre is there to help with whatever is needed, empowering people with developmental disabilities to live life to its fullest.
###