Bello Machre Receives $50,000 Donation Commitment From The Community Bank Of The Chesapeake
December 1, 2021 ANNE ARUNDEL COUNTY, MARYLAND – Bello Machre is pleased to announce a $50,000 charitable giving commitment from Community Bank of the Chesapeake (CBTC), payable over the next three years. "The Community Bank of the Chesapeake is an important partner of Bello Machre, not only supporting our events with this amazingly generous 3-year…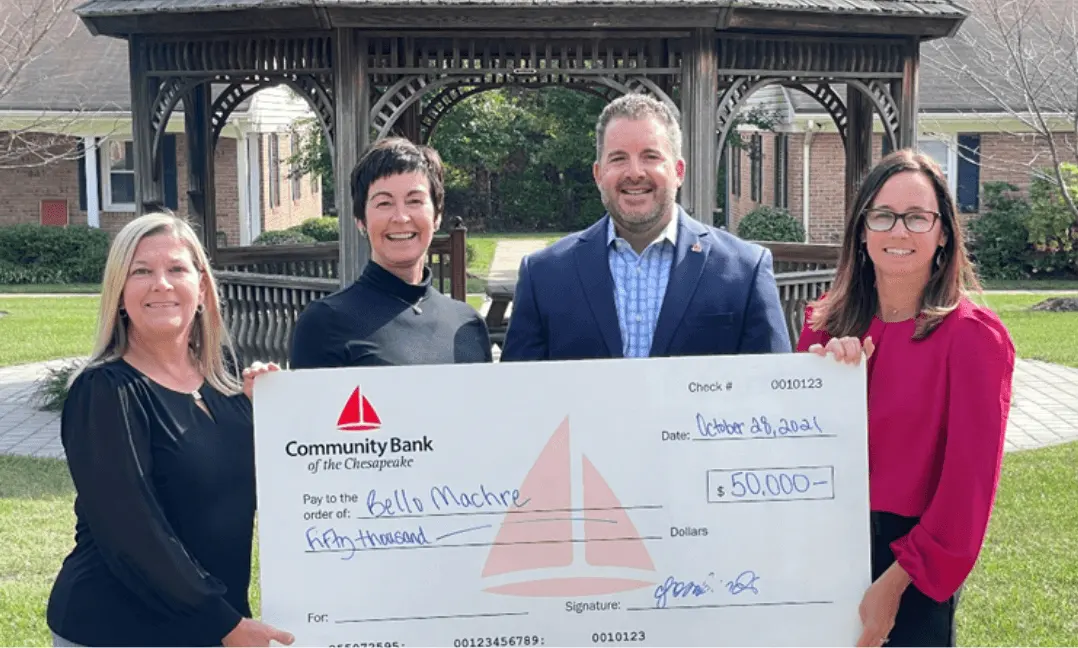 December 1, 2021
ANNE ARUNDEL COUNTY, MARYLAND – Bello Machre is pleased to announce a $50,000 charitable giving commitment from Community Bank of the Chesapeake (CBTC), payable over the next three years. "The Community Bank of the Chesapeake is an important partner of Bello Machre, not only supporting our events with this amazingly generous 3-year commitment but also helping fund our newly built wheelchair accessible homes throughout Maryland," says Dr. Robert Ireland, President and CEO of Bello Machre.
CBTC's gift to Bello Machre is the latest in its four-year giving history to the organization. When this latest commitment is completed, CBTC will have contributed nearly $90,000 since 2017, sponsoring Bello Machre's Every Step Counts fundraising event, Golf Tournament, and 50th Anniversary Celebration, all in support of the children and adults with developmental disabilities served by the organization.
"Bello Machre's commitment to the health and wellness of individuals with developmental disabilities extends many years and has touched so many lives. They provide a loving home environment, daily activities, and constant care. We are proud to support this organization and grateful we can help make a difference," comments Diane Hicks, Senior VP & Director of Marketing and Communications with Community Bank of the Chesapeake.
Situated in Glen Burnie, Maryland, Bello Machre has been nurturing, teaching, and caring for people with developmental disabilities for almost 50 years. The organization has helped thousands of people with developmental disabilities and was founded by a group of parents who wanted better lives for their sons and daughters than institutional living.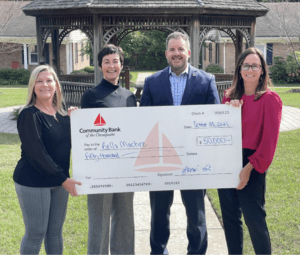 Pictured left to right: Julie Provan, Bello Machre Vice President & COO; Tracy Lynott, Bello Machre Development Director; Patrick Pierce, Community Bank of the Chesapeake Executive Vice President and Chief Banking Officer; and Diane Hicks, Community Bank of the Chesapeake Senior Vice President & Director of Marketing and Communications. Photo Credit: Bello Machre.
About Bello Machre
Bello Machre, founded in 1972, means Home of My Heart in Gaelic. It is a non-profit organization with offices in Anne Arundel and Carroll Counties, MD, that provides a lifetime of loving care, beautiful wheelchair-accessible homes, and community support to people with developmental disabilities. Many of the people supported live in its 50 community homes located throughout Central Maryland. Bello Machre also provides personalized care and support to hundreds of children and adults in their own homes. The Hertha and Jesse Adams Ray of Hope Program offers assistance with expenses such as specialized summer camps, physical therapy, and adaptive equipment. The Bello Machre Meaningful Day Program provides vocational and community-based adult day services, supported employment, and/or recreational, educational, and social opportunities for people with developmental disabilities. Our highly trained and caring staff provides residential respite care during family hospitalizations, emergencies, and vacations 24 hours a day, 7 days a week. Bello Machre is here to help, empowering people with developmental disabilities to live life to its fullest.
About Community Bank of the Chesapeake
Headquartered in Waldorf, Maryland, Community Bank of the Chesapeake is a full-service commercial bank, with assets over $2 billion. Through its 12 banking centers and four dedicated commercial lending centers, Community Bank of the Chesapeake offers a broad range of financial products and services to individuals and businesses throughout Southern Maryland and the Fredericksburg, Virginia, region. Community Bank of the Chesapeake is a wholly owned subsidiary of The Community Financial Corporation (NASDAQ: TCFC). Member FDIC. More information about Community Bank of the Chesapeake can be found at www.cbtc.com.