Come Out and Join the Fun Every Step Counts 2013
PRESS RELEASEDate: June 4, 2013 Contact: Tracy Lynott – Director, Development443.702.3016 email: tlynott@bellomachre.org Come Out and Join the FunEvery Step Counts 2013 ANNE ARUNDEL COUNTY, MARYLAND: Bello Machre's Every Step Counts event scheduled for Saturday, June 8, 2013 at Anne Arundel Community College will benefit hundreds of children and adults with developmental disabilities who live and…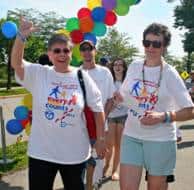 PRESS RELEASE
Date: June 4, 2013
Contact: Tracy Lynott – Director, Development
443.702.3016 email: tlynott@bellomachre.org
Come Out and Join the Fun
Every Step Counts 2013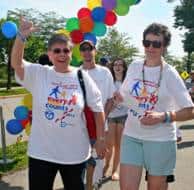 ANNE ARUNDEL COUNTY, MARYLAND: Bello Machre's Every Step Counts event scheduled for Saturday, June 8, 2013 at Anne Arundel Community College will benefit hundreds of children and adults with developmental disabilities who live and work in our community. The Presenting Sponsor – Dimensional Health Care Associates – donated $10,000 for Every Step Counts 2013. Dr. Robert Ireland, President and CEO, stated, "We sincerely appreciate the support from our many friends who time-after-time step up to support a great cause and great event."
Bello Machre's Every Step Counts won What's Up Magazines Best of Annapolis for Best Local Nonprofit Event. This family-friendly event will feature fun festivities including a moon bounce, Lulu the Clown, live music by Medora, children's games and prizes, raffles, and great food. Don't miss this great event – come see the 811 – Call Before You Dig motorcycle, constructed by Paul Teutel on Discovery Channel's American Chopper: Senior vs. Junior and Jennifer Myers, who has the distinct honor of representing Maryland as America's Miss Maryland 2013.
Every Step Counts, scheduled for Saturday, June 8, 2013, is fun for the whole family. This year there will be live music by Medora, the 811 – Call Before You Dig motorcycle, a moon bounce, a clown with face painting and balloon art, raffles, and complimentary food and beverages. The event also promotes education and awareness about people with developmental disabilities who live and work within the community. Every Step Counts will assemble hundreds of walkers and bikers at the campus of Anne Arundel Community College in front of the Pool/Gym and Schwartz Buildings, 101 College Parkway, Arnold, Maryland. Each walker and biker will raise money by asking friends, family, and business associates to sponsor their participation – either by walking a one mile route or biking a five mile route.
Registration starts at 8:30 a.m. and the walk begins at 9:30 a.m. To register, go online and visit Bello Machre's website for more information – www.bellomachre.org or call 443-702-3024 or email Katie Gusa at kgusa@bellomachre.org.
Dimensional Health Care Associates (DHCA) provides nurse case management and delegated nursing services to agencies that care for individuals with developmental/intellectual disabilities. DHCA is a nurse owned/operated company providing services in Maryland for over 21 years. Headquartered in Owings Mills, Maryland, DHCA offers on-going and mandatory (CMT, OSHA, CPR, etc.) training for direct care staff as well as skills necessary to care for people with disabilities. Nutrition services provided by registered dietitians are also available.
Other major sponsors include our Premier Sponsor, Corporate Brokers of Annapolis, Maryland who donated $7,500 and our Benefactor Sponsor, Skyline Technology Solutions who donated $5,000 towards this great event.
Corporate Brokers, headquartered in Annapolis, Maryland, is focused on high-quality recruitment and retention and offers a full array of scalable, best-practice solutions for both Permanent and Contract Placement Services. With seven offices located throughout the country, Corporate Brokers is designed to meet clients varied staffing challenges, from total outsourcing of talent acquisition strategies to interim contract recruiting.
Bello Machre, founded in 1972, means Home of My Heart in Gaelic. It is a non-profit organization in Anne Arundel Country, Maryland that provides homes and support to children, teens, adults, and seniors with developmental disabilities. Its mission is to enrich the lives of those served through loving care, guidance, and opportunity so that they can live life to its fullest. Many of the people served live in its 53 community homes located throughout Anne Arundel County, Maryland. Bello Machre also provides help and support to hundreds of children and adults in their own homes. The Ray of Hope Program offers assistance with expenses such as specialized summer camp, physical therapy, and adaptive equipment. Trained and caring staff also provides residential respite care during family hospitalizations, emergencies, and vacations – 24-hours a day – seven days a week. Bello Machre is there to help with whatever is needed, empowering people with developmental disabilities to live life to its fullest.
###