Severna Park High School's National Honors Society Raises Over $700 to Help Bello Machre
PRESS RELEASEDate: April 18, 2013 Contact: Tracy Lynott – Director, Development443.702.3016 email: tlynott@bellomachre.org Severna Park High School's National Honors Society RaisesOver $700 to Help Bello Machre  ANNE ARUNDEL COUNTY, MARYLAND: The Severna Park High School's National Honors Society raised over $700.00 to support people with developmental disabilities. The club organized a 1920's themed dance fundraiser at…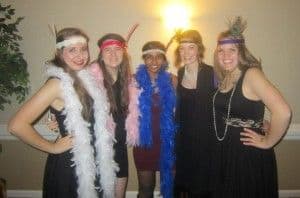 PRESS RELEASE
Date: April 18, 2013
Contact: Tracy Lynott – Director, Development
443.702.3016 email: tlynott@bellomachre.org
Severna Park High School's National Honors Society Raises
Over $700 to Help Bello Machre
 ANNE ARUNDEL COUNTY, MARYLAND: The Severna Park High School's National Honors Society raised over $700.00 to support people with developmental disabilities. The club organized a 1920's themed dance fundraiser at the Shipley's Choice Clubhouse for Bello Machre on Monday, March 25, 2013 with over 100 people in attendance.
Bello Machre and the Severna Park National Honors Society have been working together for overthreeyears. With 450 members, the National Honors Society's mission is character, leadership, scholarship, and service focusing on making a difference in their community. Tracy Lynott, Development Director commented, "Severna Park National Honors Society has made a difference at Bello Machre. The students amaze me every time they come out to volunteer. We are honored to work with such an inspirational, community-minded group of young men and women."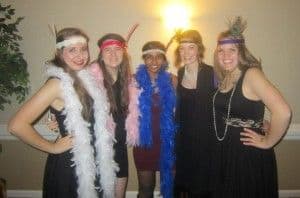 Jenna Fisher, Severna Park High School student and a National Honors Society committee chairperson, was instrumental in organizing the event. She stated, "As high school students, we like to go out and have fun. Why not have fun and support a good cause at the same time? That's just what we did. Our 1920's themed dance fundraiser was a huge success!"
The organizers included Severna Park High School students Jenna Fisher and Lyla Doyle, as well as band members, who Jenna refers to as the Honors Society Band, Tony Guarino, Adam Narimatsu, Cory Chubb, and Dan Joy.
Bello Machre, founded in 1972, means Home of My Heart in Gaelic. It is a non-profit organization in Anne Arundel Country, Maryland that provides homes and support to children, teens, adults, and seniors with developmental disabilities. Its mission is to enrich the lives of those served through loving care, guidance, and opportunity so that they can live life to its fullest. Many of the people served live in its 53 community homes located throughout Anne Arundel County, Maryland. Bello Machre also provides help and support to hundreds of children and adults in their own homes. The Ray of Hope Program offers assistance with expenses such as specialized summer camp, physical therapy, and adaptive equipment. Trained and caring staff also provides residential respite care during family hospitalizations, emergencies, and vacations – 24-hours a day – seven days a week. Bello Machre is there to help with whatever is needed, empowering people with developmental disabilities to live life to its fullest.
###