Residential Group Homes for People with Intellectual & Developmental Disabilities in Anne Arundel & Carroll Counties, MD
Discover A Live-In Lifetime Of Loving Care At A Bello Machre Home
What Are Residential Services?
Our Residential Program gives adults with developmental and intellectual disabilities a secure place to feel safe and loved — within Bello Machre-owned homes. Live-in caregivers support small community living with three to four people in the home, helping each person grow, develop, and live life to their fullest.
Our residents include adults diagnosed with Autism Spectrum Disorders, Cerebral Palsy, Down Syndrome, Neurological Disorders, Traumatic Brain Injuries, Retts Syndrome, Muscular Dystrophy, Epilepsy and/or Seizure Disorder, and more.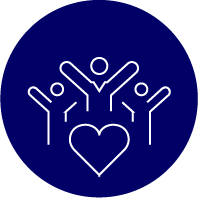 1,520,064 – The number of Residential Services hours we provided last year.
Day-To-Day Life For Bello Machre Residents
When people are in a residential program home, they'll be cared for by our Bello Machre staff. We'll cook, we'll clean, and we'll invite everyone to participate and build a sense of community.
Everyone in Bello Machre's Residential Program has the option to participate in day programs, like Meaningful Day. Combined services are certainly in our wheelhouse!
Residential Services Staff
Our Bello Machre staff work tirelessly to provide a clean, comfortable home for your loved one.
Finances
We want to help make your loved one's care affordable. Learn about costs, financial support, and funding for our residential services program.
Our Residential Services Team
Program Directors
TAMARA WILLIAMS
Anne Arundel County
BRENNA PALMER
Anne Arundel County
SAA FILLIE
Anne Arundel County
CRYSTAL BROWNLEE
Anne Arundel County
JUANITA EVANS
Anne Arundel County
KENDRA PARKER
Anne Arundel County
RONITA BROWN
Anne Arundel County
KRYSTAL DORSEY
Carroll County
Program Manager
Carly Huezo